MP Mongi Rahoui declared the Tunisian people now have nothing to lose. The most fundamental human right, particularly the right to life, is now endangered by this government and its partners in Parliament who do not hesitate to kill citizens, humiliate them and even strip them.
Those in power have starved the population and denied the people of their most essential needs (water, electricity, transport, milk, food…) with weekly price rises, he added.
While our national sovereignty and our agricultural lands are endangered because of the greed of these mercenaries, they command compensation, denounced Mongi Rahoui calling on the people to come out of their silence and battle for their dignity.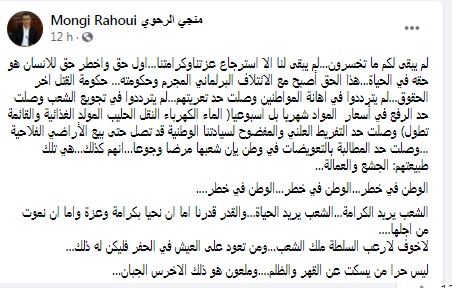 What's happening in Tunisia?
Subscribe to our Youtube channel for updates.